Many people do not
get
my fascination with old tattered and torn houses but there is just something about them that intrigues me.
Every time I see an
old fallen
down house, I wonder how it got that way. How did a once filled home turn to shambles? Its sad and lonely looking but some how there is beauty in it... the beauty of nostalgia.
There are many of these types of homes in our area. Most are seen only in the winter months when the foliage is no longer there to hide them. That alone mystifies me. They are
mysterious
places hidden among the trees and under brush. On the other side of the door, there are these still dark quiet rooms with walls that will forever hold the houses secrets.
The mystery calls to me.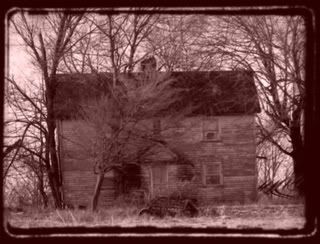 *Song; Cat Stevens- Trouble