Come by Chance
is taking shape. I cant wait to look over my pictures from last year. Everything has changed so much, the orchard, the barn, the fence. Even the chicken coop looks different.
Last weekend I worked on weeding out the raised beds. They were awful. Every time I walked by them the weeds loomed over my head, like force of doom.
Do I dare post a picture of our shameful raised beds?
Before:
FYI- Putting horse manure in raised beds defeats the simplicity of raised bed.
After: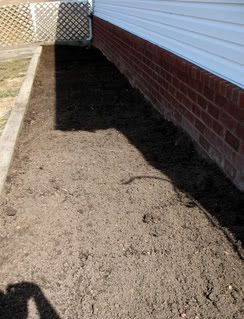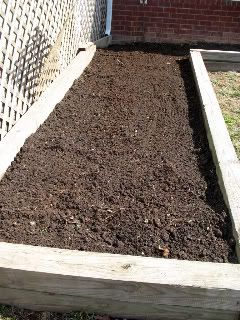 I have succsessfully defeated the dark forces with my hoe. Aw, that feels so much better!
It was such a relief that last weekend was so gorgeous. I really wished the nice weather would have stuck around.
Instead, this weekend we having been working on finishing the fence in gloomy 35 degree weather with riping winds. I painted while my brother and husband ran the fence. We finally gave up yesterday evening around 4pm. We came in ate supper, got the kids ready for bed. We were all dreaming by 7:30pm. Still with all that sleep my coffee couldn't get me moving this morning.
I think we are all ready for the "construction" part of
Come by Chance
to be over. We are in need of rest and relaxation. But before we know it we are going to be putting in the garden and running back and fourth to soccer practices. And then we will be looking at the dreaded task of putting in the driveway. I am now trying to "figure in" a weekend for
just
rest. I am exhausted. My husband is exhausted. My kids are ready to have a weekend of entertainment. Frankly, I am ready for just
fun
myself.
I have always enjoyed hard work. I am a task manager by nature so I always have a great sense of satisfaction when something has been marked off
the list
. There is a draw back to that. Sometimes we get so involved in completing a task that we forget to have fun too.
I am ready to
enjoy
our animals instead of preparing for their arrival. I miss the days of just sitting in the grass and watching the chickens. I see those days just with in reach. I cant wait.
When I am dead exhausted like this, I am reminded that it is just as important to smell the roses as it is to plant them.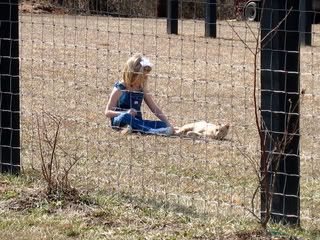 (last weekend)
*Song- Ray LaMontagne, Water from the Well