I have a watermelon!!!! O Yes I do! Its eleven rows down from the fungi infested beans and that would be eight rows down from the rotten tomatoes! The chickens sure have enjoyed them...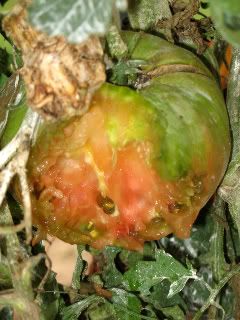 Six rows down from the mutated corn, three rows down from the potato's that are covered in bugs of biblical proportions. ...
The watermelon vines are just a row over from where the squash once was... ya know, the squash plants that use to be in the garden before they withered and died.
Yes!!!! That watermelon.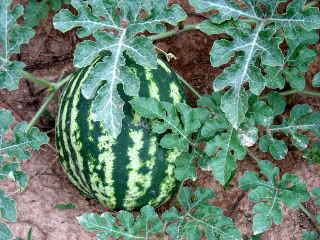 I also have peppers but they are in hiding right now....
---------------------------------------------------------------
Our Garden seriously sucks this year. Mother nature pinned the odds against us early on in the season, and then various distractions kept us from tending to the issues before they spiraled out of control. Finally we said the hell with it and cut our losses.
This weekend we pulled the tomatoes, beans, onions, corn, and dug up the rest of the potato's. We harvested/salvaged as much as we could, but it was important to cut some of our losses now. We still have Peppers, Watermelon, Cantaloupe, and Cucumbers in the large garden and healthy tomato plants in the raised beds by the house.
I was so relieved when we started to dismantle the garden. It was such an eye sore, a constant reminder of our failure and a reminder of a ton of work that had yet to be done. Now that there is less on my plate, I feel as though I can reorganize, get a few things accomplished, and actually enjoy what I am doing in the process.
Although this year was one of the most disappointing seasons yet,
I will harvest something just as valuable as a bountiful crop,
"The lessons from experience"...
1. Run poles for the beans the day they are planted... Waiting until the plants are sprawling across the ground is just asking for problems. In fact, I learned that we should stake everything that needs stakes the day we put the plants or seeds in the ground. This avoids cutting the root system of a mature plant, and also from having to deal with a long gangly mess later.
2. I HATE Cherokee Purple Tomatoes.
- In case my seedlings don't make it, always buy a few "back up" plants from the Amish by the first of April. They sell out of Brandy Wine tomatoes (My favorite) with in the first week of April... I don't want to be stuck with Cherokee Purples again.
3. We do not eat enough corn to justify planting it every year.
4. For us, spinach and peas do better in the fall verses early spring.
The annual garden teaches us valuable lessons in which we try to implement the following season. So although we had a lot of losses this gardening season we did actually have a few first time successes. Carrots for example. This was our third season in attempt to grow carrots. The first season we planted carrots in the large garden between the tomato plants. We planted the seeds too close together when we pulled the carrots they looked like little voodoo dolls with arms and legs. The next season we planted them in the fall... Out of all the seeds... we had two small carrots develop. This season we planted carrots in one of our raised beds which produced large easy to pull carrots! It was a great victory.
The next success has been the garlic. I had planted garlic for 5 seasons. This year is the first year we have ever had more than one head of garlic. Each year that we have planted garlic, I either planted it in a season that doesn't suit us, (I have never been able to produced garlic from a fall garden) or I harvested our spring garlic too late in the fall and it became buggy and had started to rot.
This year we planted the garlic in a raise bed that receives direct sunlight. The bed is a little low on Nitrogen so I loaded it down with left over coffee and coffee grounds throughout the season. The garlic produced several nice healthy heads this year. It was a first and another great victory after years of defeat!
Probably one of the greatest lessons I learned this season, "Biting off only what I can chew". I felt that this season my attention was being pulled in so many different directions that I couldn't give anything 100%. This is the first year that I had to balance the animals, the kids, the house, the blog and the garden all at once. Beside just giving everything the bare necessities to life, I have children to entertain and nurture, animals that need attention just as much as they need to be fed watered and have clean bedding, and a home that needs more than a lick and a promise on cleaning day. All the while I have to make sure the homestead maintains a certain aesthetic appearance, (because I do have neighbors). Its a lot to do.
While balancing all these obligations I had to give up some simple interest. I have yet to work out in the shop on my carvings. I think about the carvings often and would even go as far as to say I mourn my late night evenings in the shop. Lee and I were hoping to start rebuilding Linda, our 1948 Ferguson tractor this spring. Lee bought new front wheels and tires and I found a replacement muffler one day while browsing the isles at TSC, that's as far as we are on Old Linda's Restoration.(More on Linda coming soon)I haven't cleaned the gourds that have been drying out in the barn loft, therefore the bird house gourds were not hung across the garden this year. I have only been on one nature walk this year. The kids and I are really hoping to explore soon! And last but not least I was hoping to take a trip back home to West Virginia in August but that has been postponed (maybe until October, maybe indefinitely) but we are taking the children to the Mountains (where I hope we can do some major exploring) for a short weekend trip in two weeks. I am hoping that this fall we can unwind a bit by following up on some old interest, but moderation is the key.
Speaking of moderation, I have noticed that in the past I tend to want to plant every seed that I have that season. So if it takes seven more rows to finish out my watermelon packet... then I plant seven more rows, even if I cant give them a way... I plant anyways! This is crazy! This has been one of my biggest gardening down falls. Yes, you see I have made this mistake repeatedly in the past but this year I have felt the consequences worse than ever.
After much discussion, we have decided that we will not plant in the big garden next year. We are going to focus our efforts by building up the nutrients in the soil and we will still have veggies in the raised beds by the house. I hope that I will be milking Jasmine next summer and we have other projects that will need our undivided attention as well. (I will elaborate on the
other
projects at a later date) I am thinking that if we alternate our garden size, planting a lot one season then canning, drying, and storing enough of the harvest so that the next season we can plant small. Having the big garden next year is more than I can or even want to take on. See, I am finding moderation, its just at a very slow but moderate pace! ;)
I guess you could say I am stepping back a few feet in order to see the complete picture, in order to prioritize and make adjustments We all have to make adjustments and critiques in our lives. Sometimes we have to paint the canvas white and start again. That's just a part of life. Not that I am starting from scratch, but do I have few things that I plan on tinkering with once this season begins to slow.
Stay tuned.... ;)