In my last post I mentioned that I mourned for the work shop. I missed my late evenings hearing the humming of the sander, the buzzing of the Dremel and the thumping of the mallet against the chisel.
This evening a cool breeze swept across the tree tops calling me out of the house and into the shop. After dinner Sissy and I wandered outside. She road her bike a bit while examined a walking stick made from a old tobacco stick that I started several months ago. I tossed it in my hand for a while, rubbing along the already sanded grain. I could smell wood setting in the shop as my mind drifted back to about this same time last year when I started dabbling in wood working once again with the mentoring of my father.
Like the changes of the grain in a piece of wood my mind started to weave in and out of the various possibilities for my walking stick. I had already started a set of deer tracks at the top which were Bas relief... but I didn't like that look as we all know that tracks are imprints. So I chiseled out the tracks. I'm not happy with them but God only knows how old this tobacco stick is, and I had an issue with the wood grain, worm holes and flaking. It is what it is... I then traced out a few of Maple leaves going in various directions... for leaves rustling in the wind look.
After the pattern was drawn, I used a light weight Dremel tool with and narrow engraving tip to cut out my outline, then I used a 1/8 inch silicone carbide grinding stone to remove the outer edge for the bas relief. I still wasn't satisfied so a used various files and sanding to clean up my work... after staining the leaves some of the detail work still wouldn't show clear. So I then traced the maple veins and did a little shading with a fine tip wood burner.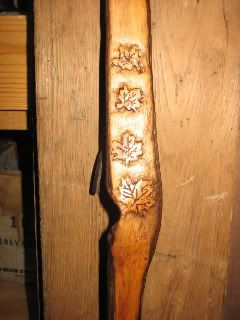 Sissy stopped riding her bike to examine what I was working so intently on. She said "mommy, can I use that thing too". After a little deliberation I decided that it would be alright. She grabbed a light weight piece of pine that Memaw had given her and she began to trace out her design. I watched in amazement as she very carefully ran the fine tip Dremel over her out line with a steady hand. I was proud to see the family tradition carries on.
I may never become an excellent wood craft'er but for me, wood working is a family tradition. I recalled in a previous
post
about my days as a child watching my father tinker in the wood shop. Those memories are by far some of my favorite. My dad is an excellent craftsman and a great teacher. He has produced many mantels, statues and other trinkets for various friends and family.
These are just a few of his pieces....
Thanks for reading.
-Leigh
UPDATE...............................
I started another piece and I can already see an improvement... I assure though it isn't by skill. Just figuring out what tools work best for me. I'm going to start another stick tomorrow but with this one I'm going to attempt to use the same tools but do shading with the wood burner. Eventually I would like to attempt to do
leaves blowing in the wind
starting from the top of the
grip
to the tip of the walking stick... To the Wood Craft'ers out there advice or reference sites are always appreciated.