For Karen, One of the most fabulous people I know!!!!
>>>>>>>>>>>>>>>>>>>>>>>>>>>>>>>>>>>>>>>>>
When a Chicken goes missing or perishes during the night, some believe that a predator has taken them. But the legend at Come By Chance acres tells a slightly different story .....
Once many many moons ago a young pullet was out free ranging. She enjoyed her free time in the lush green fields with the bright warm sun beating down on her tail feathers. Life was great! But each day she would stray further searching for more worms seeds and berries. One day the little pullet reached a woods line. She knew the woods was a dangerous place to go. The woods was dark and scary. She knew that there were bears in the woods... and fox and raccoons! But the little hen spied a blackberry patch. All those delicious berries were far to tempting.... She excitedly clucked her way through the under brush and had her fill of the sweet blackberries that lured her away from the safety of her home.
Quickly night came. She didn't know what to do!!!! She began to panic. Her instincts told her to roost. She searched for a large tree, where she could roost high up in the sky. "Nothing will get me here", she thought.
When morning finally broke, she realized that in her search for a high roost, she had wandered even deeper into the woods... She was so frightened that she couldn't bring herself to leave the safety of her tree.
Over time the little hen had other instincts. She built a nest out of tree bark and leaves. There she laid thousands of unfertilized... empty spiritless eggs. She continued to sit on her nest... She so badly wanted to hatch a clutch of her own. If she just had one chick she wouldn't be lonely anymore.
She was too scared to leave the tree in search for other chickens. Her fear of leaving the safety of her tree crippled her spirit so badly that when it was finally her time to return to her maker in the sky, her spirit could not make the travel. Her spirit now lingers between two worlds
Legend has it that she finally found her way back to the coop. Awe but yes, but she still yearns for little ones of her own.
She comes in the middle of the night in search of other stray chickens. She steals their spirits and places them in her empty eggs in hopes that one day, she may no longer be alone.
So when a chicken goes missing or perishes in the night its not a wild predator but it is the "Sitting Hen in The Woods", coming back to the coop collecting spirits for her empty eggs.
The silhouette of Sitting Hen in the Tree marks as a reminder to put the chickens up at night.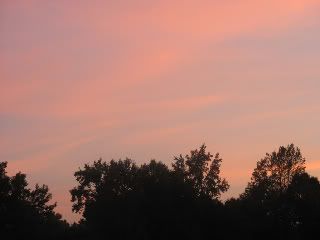 Thanks to my pops for pointing out the chicken in the trees. ;-)